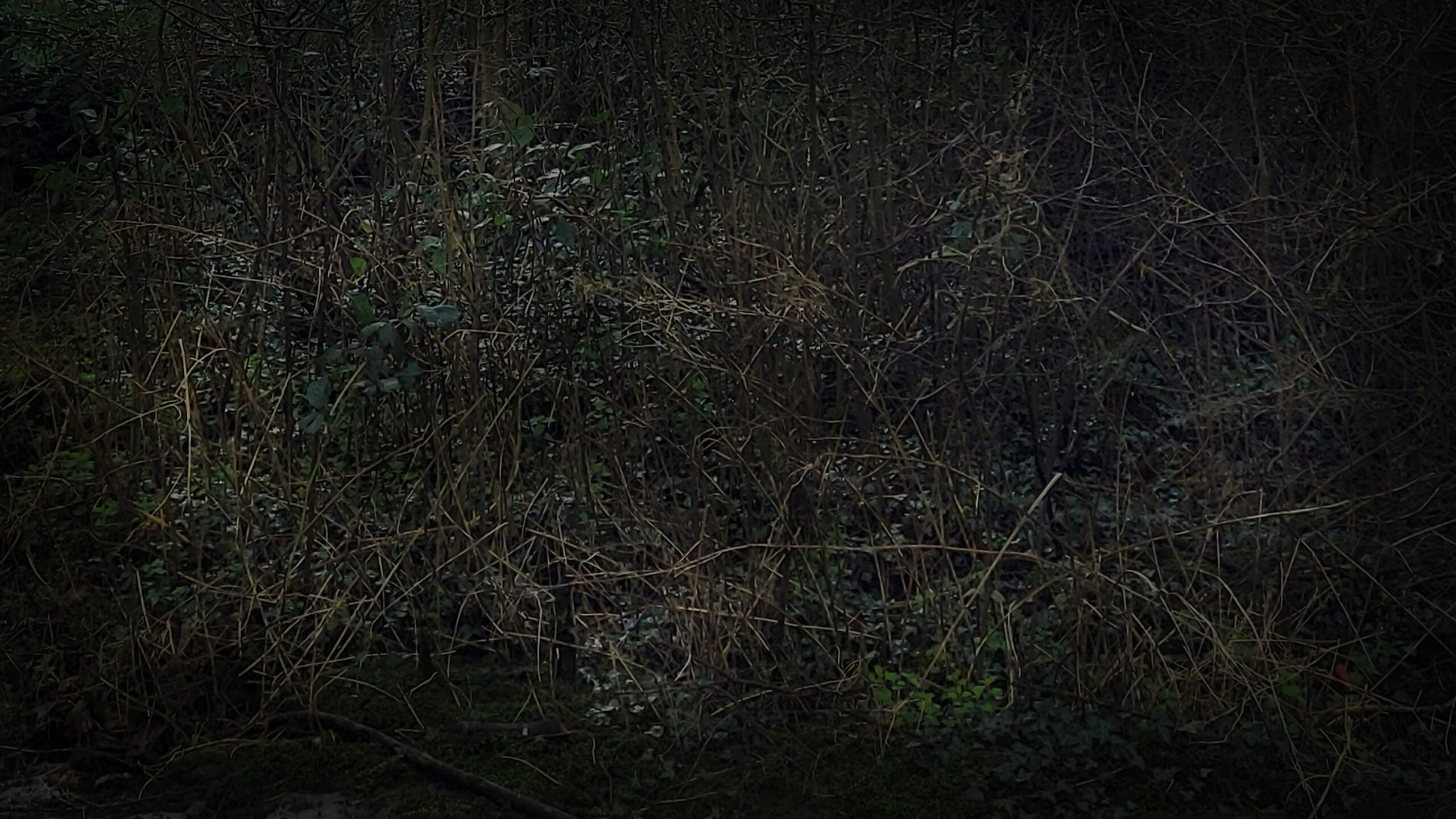 Image 1: A dark image of intertwined foliage. A mixture of plants typically found in an Irish hedgerow, including ivy, brambles and moss. 
A series of events exploring pressing issues of biodiversity loss and climate grief while commemorating the artistic, cultural, and musical heritage of the Island of Ireland. These events foster cross-border collaboration, bringing together communities from both sides of the border in a collective effort to address the shared environmental crisis.
An Evening Exploring Caoineadh and Climate Grief
Sunday 15 October, 5pm to 7.30pm

Aughakillymaude Centre, Derrylin, Co. Fermanagh
All are welcome to this once-off afternoon event exploring Caoineadh or Keening with UCC's Marian Caulfield, a leading expert in the field, round table discussion lead by environmental artist AlanJames Burns and live performances of keens and lament airs by cross border traditional musicians.
This will be an evening of haunting music, emotive pros, and engaging discussion which will unite the audience in a powerful collective experience focused on the losses caused by our shared environmental crisis. By processing grief and redefining environmental loss as a cohesive bond , Caoineadh Dúlra aims to inspire attendees to take meaningful action in preserving the precious natural resources across the island of Ireland.
An Evening Exploring Caoineadh and Climate Grief: More Information
Caoineadh Residential Workshop
14 & 15 October 2023

Jampa Ling Centre, Bawnboy, Cavan
Discover the ancient practice of Caoineadh or Keening in this transformative workshop led by Tanya Bryan, a psychotherapist and keening expert. Experience this cathartic expression of shared personal and ecological grief and connect with Irish heritage through the therapeutic power of sound and spontaneous collective experience. Revitalising traditional skill sets for processing grief offers us tools through which we can re-engage with and reframe environmental loss – not as a state of disconnection and isolation, but as a collective, unifying experience, which can be channelled as a catalyst for change.
Facilitator notes on the workshop
Note: We strongly advise that you read the facilitator notes before registering your interest for the workshop.
Closing date for this has been extended to October 3rd.
Workshop Registration & Information
Caoineadh Dúlra is a groundbreaking series of events, in conjunction with artist AlanJames Burns's ambitious theatrical project The Waking Walls (8 & 9 September 2023). The project is based on a three year research and development period by artist AlanJames Burns that has connected people from both sides of the border and has utilised cultural heritage methodologies that foster collective wellbeing.
Sounds from The Waking Walls
Caoineadh Dúlra is funded and supported by The Department of Tourism, Culture, Arts, Gaeltach, Sport & Media, Co-operation with Northern Ireland Scheme, Cavan Arts Office, Irish Hospice Foundation, Cavan Adventure Centre, Caoineadh expert Marian Caulfield and Tanya Bryan, Psychotherapist, A Time To Gather.